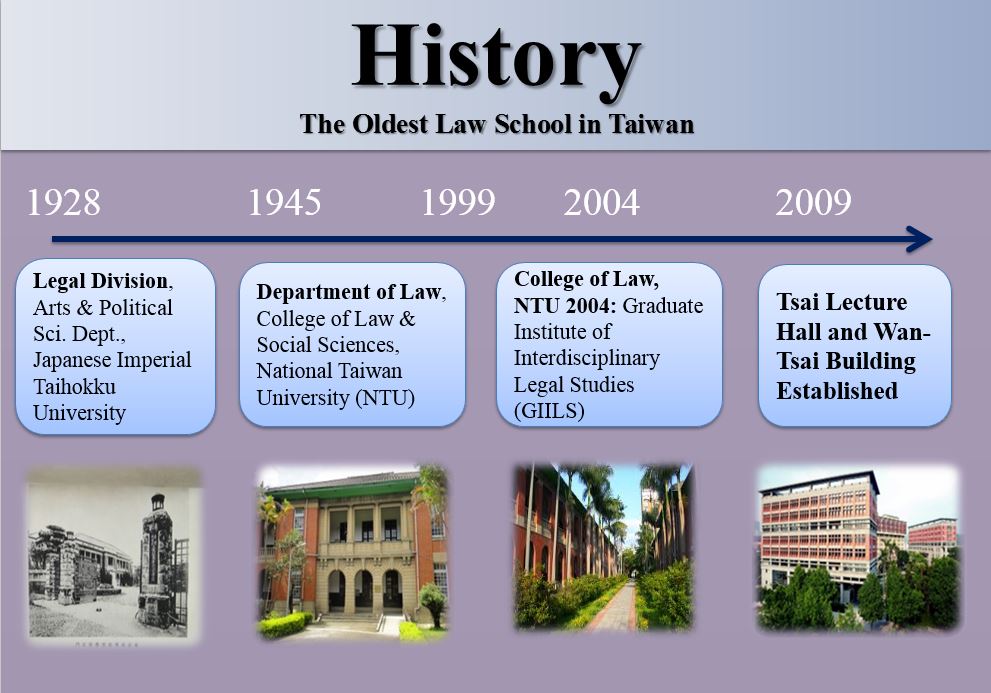 The College of Law (formerly known as the Department of Law) dates back to Taihoku Imperial University that was built during Japanese colonial era (1927-1945).
After World War Two, the Imperial University was renamed as National Taiwan University, while the College of Liberal Arts and Political Science were separated into the Colleges of Liberal Arts and Law. Before 1999, College of Law consisted Department of Law, Political Science and Economics. In August 1999, Department of Law was renamed as College of Law; other departments which were under the former College of Law became part of College of Social Sciences.
Department of Law consists of 3 divisions: the Division of Legal Sciences, Division of Judicial Administration and Division of Economic and Financial Law. Master program in law (LL.M.) began in 1955, and doctoral program (Ph.D.) was established in 1971. To promote interdisciplinary legal education, the Graduate Institute of Interdisciplinary Legal Studies began its operations in August 2004 and offers an LL.M. degree to students who originally specialized in other field of study, and aim to integrate their expertise with law.
Two new buildings donated by our alumni became operational in June 2009. Tsai Lecture Hall (霖澤館) is used for classrooms and the Administrative Office. Wan Tsai Research Hall (萬才館) houses various researches centers and the award-winning Law College Library. The two buildings are surrounded by a beautiful pond and a park where students can rest and socialize. We are indebted to the support offered during the moving process from the old campus. The College is now located near the back entrance of the campus, at the intersection of Fuxing S. and Xinhai roads.